Welcome to the
Richardson Soccer Association
Supporting Youth Soccer in North Texas for over 40 Years
Field Status
Text "rsaweather" (without the quotes) to 84483 to receive SMS text alerts on your phone when any weather delays/cancellations occur. Those alerts will also be rebroadcast below when they occur.


Breckinridge Park Field Layout Change

Please note that our U9/U10 fields at Breckinridge Park have been moved to the Championship Field area of the complex. Please visit our
maps page
to access the new field layout PDF.
The RSA office has moved!!

Please visit us at our new location around the corner:
678 N Glenville Dr, Richardson TX 75081
Click on
this link
to see how close we'll be!
RSA Picture Day - Rescheduled!!
RSA will be providing a picture day for all of our teams this spring! Invitations to sign up will be sent to all of our coaches to simplify the process for parents. Each coach will sign their team up for a time on that day and the photographers will take individual and team photos during that time. Parents can order different picture packages that day and all orders will be shipped directly to them. See the link below for an order form you can fill out ahead of time, otherwise they will have forms for you on picture day. Please contact your coach if you have questions on when your team will have photos taken.
Event:&nbsp RSA Picture Day - Order Form
Date:&nbsp May 4, 2019
Time:&nbsp Varies per team
Location:&nbsp Breckinridge Park by the lake
Note:&nbsp Some U9 and older teams may have invitations for pictures through PYSA; no team is REQUIRED to participate or make a purchase.

Challenger Soccer Academy RSA Player Development Program

Dates:&nbsp March 18 - April 8, 2019 (4 consecutive Mondays)
Times:&nbsp See "Register Now" link for details
Location:&nbsp Huffhines Park Soccer Field
Cost:&nbsp $20 to attend all 4 sessions
Notes:&nbsp Use discount code RICHARDSON2019 at checkout to receive $20 price
Notes:&nbsp Coaches are welcome to observe the sessions!


2018 NTSSA Tournament of Champions

Congratulations to The Jedi Forces U15B team who became champions of their age group!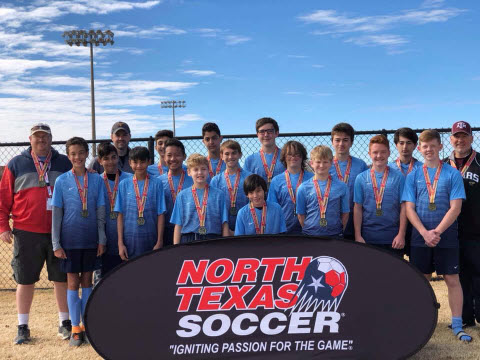 Special recognition to the teams below that made it to the playoff round on Sunday!
U9 Boys - Milan Semi-Finalist in Playoffs
U10 Boys - Dragons 2nd Place in Playoffs
U13 Boys - Golden Rockets 2nd Place in Playoffs
U14 Girls - Blue Fusion Semi-Finalist in Playoffs
&nbsp &nbsp &nbsp &nbsp
Friends of Rob Update!
RSA would like to thank Friends of Rob for their generous donation to children affected by 2016 storms and tornados that will allow them to continue playing soccer.